Description
THE HEADPHONES EVERYBODY'S TALKING ABOUT 
Critically acclaimed for their powerful noise cancelling, astonishing sound and unrivalled voice pickup, Bose Noise Cancelling Headphones 700 help turn any space into the perfect place to listen to music, get work done or just shut out the world for a few moments and relax. So if you're looking for the best wireless Bluetooth® headphones for music and calls, you've found them.
ASTONISHING SOUND
The patented active noise cancelling technology in Headphones 700 uses microphones both inside and outside the earcups to monitor the sounds around you and instantly produce an opposite signal to cancel them out, creating an empty stage for your music to play on. At the same time, our proprietary TriPort acoustic headphone structure uses external ports to vent the earcups and maximise the acoustic space inside, giving your music depth and detail.
CONTROLLABLE NOISE CANCELLING
Headphones 700 offer sound control that's available only from Bose, including 11 settings that range from full noise cancelling (which helps isolate you from your surroundings) to full transparency (which helps let your surroundings in, as if you weren't wearing headphones at all). Plus, one click triggers Conversation Mode, which simultaneously switches your headphones to full transparency and pauses your music, for a momentary break from private listening.
UNRIVALLED VOICE PICKUP
Headphones 700 feature a revolutionary microphone system that's unlike any other headphones, with game-changing voice pickup engineered for making and taking calls in less-than-ideal conditions. Six mics work together to cancel the noise around you so you can hear the caller better, while four mics combine to improve the clarity of your voice so the caller can hear you better, first by isolating your speech and then by suppressing the most disruptive remaining sound around you. It all happens in real time and adapts as you—or the source of the noise—moves.
PREMIUM DESIGN & COMFORT
Even though we've been making noise cancelling headphones for decades, for Headphones 700 we began with a clean slate. The result? A head-turning new form factor, designed for all-day, everyday use. Earcups tilted at 15 degrees to mirror the anatomy of the human head and ears. Ear cushions made from plush protein leather for long listening sessions. A streamlined steel headband, tuned to clamp securely but not uncomfortably, and an underside of soft silicone-covered foam. And so much more.
SIMPLE CONTROLS
We worked hard to make Headphones 700 easy to use. The right earcup features capacitive touch sensors, so you can manage volume, calls and music without looking at your phone. Low-profile buttons control the power, noise cancelling presets and voice assistant (VPA) access. Built-in voice control gets you to your music, messages and information fast. And the Bose Music app lets you access selectable EQ, manage your Bluetooth connections, change your VPA, check your battery life and more.
ONE TOUCH TO SPOTIFY
Nothing should come between you and your music. Instantly start listening to your last session on Spotify simply by tapping and holding the right earcup. Want new content? Just tap and hold it again for a brand-new playlist based on your listening history. You can keep repeating this step until you find something you like. Open the latest Bose Music app to enable the Spotify shortcut. Currently only available when using iOS devices with your headphones and an active Spotify account.*
RELIABLE BLUETOOTH CONNECTIVITY
Connecting wirelessly to your devices is simple and reliable. Bose Headphones 700 have a Bluetooth range of up to 9 metres and can pair with two devices at once—meaning you can quickly go from listening to a playlist on your phone to taking a conference call on your laptop.
Bose Headphones 700 deliver up to 20 hours of wireless play time on a single charge. And if you're running low, a quick 15-minute charge will provide up to 2 hours so you can keep your favourites playing all day long.
BOSE SIMPLESYNC™
Want to watch TV but not disturb anyone else? With Bose SimpleSync™ technology, you can pair your Bose Noise Cancelling Headphones 700 with a Bose Soundbar 500 or 700 for a personal TV listening experience. Independent volume controls allow you to lower or mute your soundbar while keeping your headphones as loud as you like.
SPECS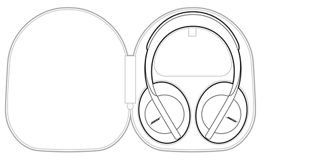 Dimensions/weight
Headphones: 20.3 cm H x 16.5 cm W x 5.1 cm D (0.25 kg)
Carrying Case: 21.8 cm H x 17.9 cm W x 6.2 cm D (0.18 kg)
Audio Cable: 1.06 m
USB Cable: 0.5 m
Materials
Headband: Stainless steel available in three premium finishes
Headband cushion: Ultra-soft gel-like foam covered in colour-matched silicone
Ear cushions: Soft foam covered in protein leather
Earcup covers: Finished with special anti-stick coating for touch gestures
Battery
Battery life: Up to 20 hours
Battery charging time: Up to 2.5 hours
Quick 15-minute charge: For up to 3.5 hours
Battery charge method: USB-C
Microphone
8 total microphones
6 microphones for Active Noise Cancelling (ANC)
4 microphones for Voice Pickup (2 are shared with ANC)
Bluetooth
Bluetooth range: Up to 10 m (33 ft)
Bluetooth version: 5.0 (including all headphone profiles)
Codec SBC and AAC
Input
USB-C on the headphone side
USB-A on the source side (but a C-C cable would also work with a C-capable source)
2.5-mm audio cable for the headphone side and a standard 3.5-mm jack for the device side
Colours
Black
Luxe Silver
Soapstone
Controls
Touch: Volume, skip track, phone calls, customisable shortcut
Buttons: VPA (Google Assistant, Amazon Alexa), Bluetooth, Controllable Noise Cancelling
Voice-enabled VPA: Amazon Alexa
Bose Music app
Siri