Description
KEF R11
NB: Available with our suppliers
Flagship three-way floorstander
The largest model in the R Series combines four bass drivers and the latest generation Uni-Q for a powerful and refined sound With hybrid aluminium bass drivers and a 12th generation Uni-Q for mid and treble the mighty R11is extremely capable. Using technology from KEF Reference it delivers clarity, finesse and serious bass.
Boasting four 165mm (6.5in) hybrid aluminium bass drivers, R11 digs deep and retrieves an exceptionally clean and musical low-end performance. Nestled in the centre of these lies the new 12th generation Uni-Q driver array. The 125mm (5in) midrange driver and 25mm (1in) aluminium dome tweeter combine to deliver an even more natural midrange and treble than believed possible at this price point. The result is a speaker that can pick out the softest details with grace and refinement, as well as deliver raw power and strength.
SOUND IS THE REAL STORY
In the movie world, the best sound engineers are capable of weaving ever more wonderful sonic webs and the new R Series is your ticket for getting the best out of movies, delivering the natural, consistent sound essential for a phenomenal surround sound experience.
SHADOW FLARE
Derived directly from the Reference Series, the Shadow Flare is an innovative method of reducing harmful cabinet diffraction for delicate high-frequencies. Shadow Flare is a carefully profiled transition surface which extends the waveguide effect of Uni-Q. The tweeter no longer has a line of sight of the cabinet edges, creating a 'shadow region' at the points where the potential for diffraction is highest. The result is vastly improved fine detail, particularly when it comes to the subtle nuances of plucked strings and other percussive sounds.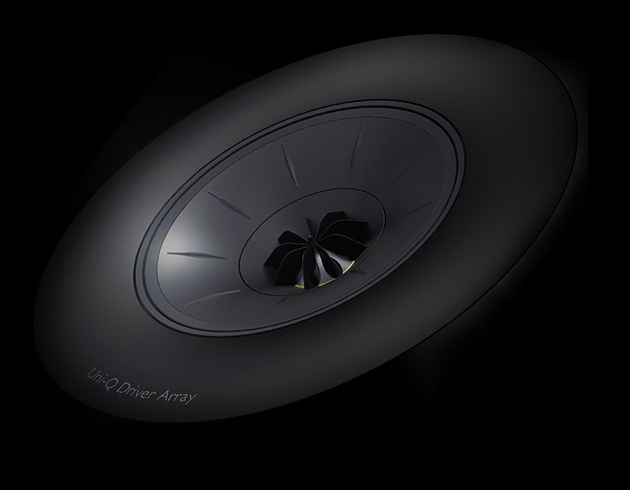 LOW-FREQUENCY DRIVERS
Bass is the very foundation of music; everything is built upon it and maximising bass performance is a vital building block towards the pristine sound. R Series bass drivers are built using a two-part structure, where a shallow concave aluminium skin sits atop a paper cone. This great stiffness, combined with the cone's unique geometry, delivers pure piston-like movement to deliver punch and speed. To accurately control this mighty driver, KEF has also completely redesigned its magnet system to create a more even magnetic field. The overall result is more impressive and impactful.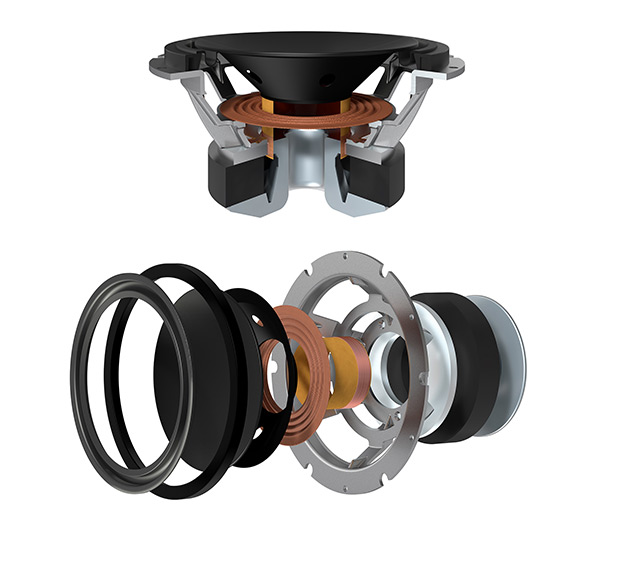 CABINET BRACING
A solid platform is imperative for great sound. The new R Series benefits from Constrained layer damping. This system utilises internal braces joined by a 'lossy' interface and is highly effective at dissipating unwanted vibrations that would otherwise artificially change the sound and music.
FLEXIBLE PORT TECHNOLOGY
When it comes to generating deep, articulate bass, port design is crucial. The ports in R Series feature innovative flexible walls. Using computational fluid dynamics, the flare and profile of each port are calculated to delay the onset of turbulence, while the flexible port walls prevent longitudinal resonances from colouring the midrange.
BEAUTIFUL BY DESIGN
Great design is timeless. KEF's product designers seek to create deceptively simple, elegant loudspeakers. But form follows function. So whilst R Series is driven by acoustics, all visible engineering fixings have been artfully concealed so all the listener sees is a beautiful and simple exterior.
Conceived to be at home anywhere, the R Series comes in a choice of two sleek gloss finishes or a classic wood veneer. These finishes go deeper than just a base colour: each speaker benefits from KEF's tone-on-tone approach where tweeter dome, driver cones, feet, spikes and KEF logo are colour-matched to the finish.
MICROFIBRE GRILLES
The R Series has been created to sound at its best with or without grilles. This microfibre design is a first for KEF and resulted in a design that not only looks beautiful but has a negligible effect on sound performance. All of the grilles are handcrafted and compressed with heated pressure from thirteen layers of composite material. The grilles continue the tone-on-tone approach: grey for the white cabinet, brown for the walnut, and black for the black. The grilles' edges are burnished in a similar way to fine leather goods and the overall effect is almost suede-like.
Specifications:
Weight: 37.7 kg (83.1 lbs)
Dimensions (HxWxD): 1249x200x383.5mm (49.2x7.9x15.1in) with terminal*; 1295.5x310.6x383.5mm (51x12.2x15.1in) with terminal with Plinth*; 1249x200x360mm Cabinet only
Design: Three-way bass reflex
Frequency Range: 30Hz-50kHz (-6dB)
Typical In-Room Bass Response: 26Hz (-6dB)
Frequency Response: 46Hz-28kHz (±3dB)
Harmonic Distortion: <0.3% 120Hz-20kHz (90dB, 1m)
Maximum Output: 113dB
Amplifier Power: 15-300W (recommended)
Nominal Impedance: 8 Ohms (min 3.2Ohms)
Drive Units: Uni-Q Driver Array HF 25mm (1in) vented aluminium dome; MF 125mm (5in) aluminium cone; Bass Driver LF 4x 165mm (6.5in) hybrid aluminium Crossover Frequencies: 400Hz, 2.9kHz
Finishes: Black Gloss, White Gloss, Walnut